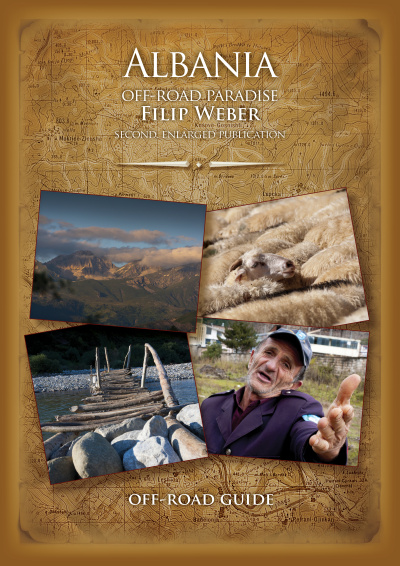 "Albania is a wild and mysterious country of high mountains, deep canyons, rock-strewn tracks, remote villages, rough highlanders, and blood feuds. Yet Albania is also very friendly country with great and hositable people. Get to know it driving or riding through this of off-road heaven of stone or muddy roadways from the Ottoman Era."
Foreword
Albania has changed dramatically since my first visit in 1999. The towns have been renovated and new main roads, new bridges as well as a new highway to the north have been built. You can catch a mobile phone signal almost everywhere and the stores are full of goods. Only the mountains have remained the same – or maybe they have become even more desolate as time goes by. Young people are moving to the towns, mountain villages are depopulating and no one maintains the mountain roads. Illegal lumberjacks use IFA trucks to haul wood and the condition of the roads is getting worse and worse. Deep ruts, which are impassable with a regular off-road vehicle, are common. Roads are often washed away by water or covered by landslides. Each year after winter, more and more mountain roads are impassable. But there are still many beautiful, passable routes that lead to the most beautiful places in the mountains. The viewpoints of magni..icent mountain lakes and majestic rock formations take your breath away. I would like this guide to lead you through the most beautiful places in Albania, places that I have fallen in love with and that I like to visit again and again. Don't believe ugly stories that people in Central Europe tell to scare each other. Forget the legends about bloody vendettas and hold-ups. All the same, you can never be too careful and you'll be wise to camp close to residential areas and greet and chat with the locals when you arrive. You might even bring them a small gift, like beer, a knife, an axe or cigarettes for adults and chocolate, coloured pencils, colouring books or English children's books for kids. Albanians are very hospitable; I have always been polite and respectful to them and they have been very kind in return.
I'd like to thank all the friends who helped and supported me. I'd especially like to thank my wife Zdenka for her patience and Edvin Kasimati, director of Rally Albania, who was a great inspiration to me.
E-book only on GoogleBooks (printing are not allowed, GPX are not availabile).
The book has 182 pages B6 format.
SAMPLE BOOK
Do you have any question?